Book your event with Puppetsburg LA!
Interactive, contemporary puppet shows for 0-5yrs: Ask about our custom shows... anything you can dream up.
We also rock Corporate Events, Library shows, Preschool Shows, & more!

BOOK A PARTY!
Puppetsburg LA is soft launching September 15th! Book us NOW for an interactive show unlike any other. We are offering a limited selection of Puppetsburg shows for now, but fully custom shows are always available upon request. Congrats on being one of our first LA clients!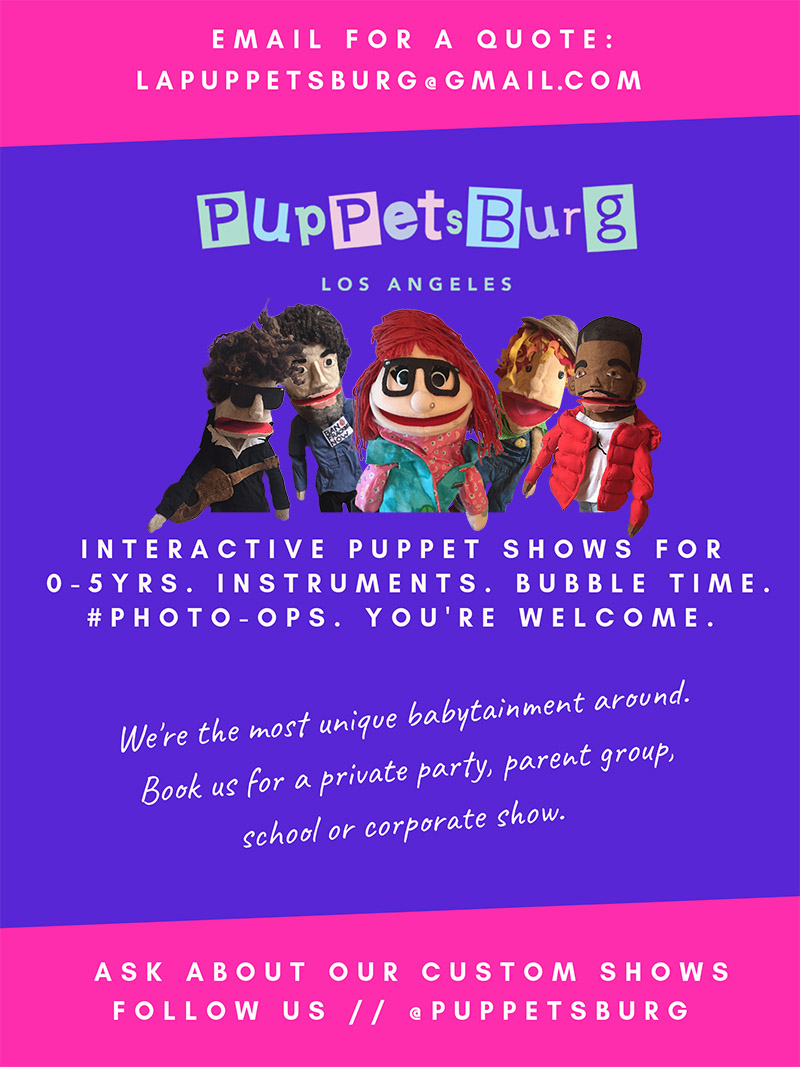 Puppetsburg is by far the most unique, engaging way to celebrate your baby or young toddler. Add some artisanal edge to your munchkin's special day! Adults will be as excited about this show as the little ones.
EMAIL US HERE FOR INQUIRIES!
WHAT TO EXPECT
A 40-45m story that is engaging for infants- 5yrs. We bring two professional performers, and customize the show according to age group. The plot is broken into 10 interactive activities accompanied by a song. Activities include dancing, instruments, bubble time (!) a wearable costume #photo-op, interaction with our artisanal, handmade puppets, and more.
We bring everything we need, including portable stage and sound system, so you can relax and enjoy the party.
PRICING
Prices vary by location + whether you will be having 5-14, 15-25, or over 25 munchkin guests. We regularly perform in apartments, common rooms, restaurants, yoga studios, outdoors, etc--- we are quite flexible + mobile, and great at transforming your space.
ADD-ON OPTIONS:
+ FULLY CUSTOMIZED SHOW: we will build a show from SCRATCH! Past requests have included "The Artist Formerly Known as PRINCE Show," a disco-inspired show, a show in the planetarium that GLOWED IN THE DARK and more! We can customize a show to fit your preschool curriculum, build a show based on your munchkins recurring dream, favorite fairy tale, pop star, etc. We love working with you to bring to life anything you can dream up...
+ A CUSTOM PUPPET DESIGNED BY PUPPETSBURG ARTISANAL PUPPET MAKER
+ FACE-PAINTING